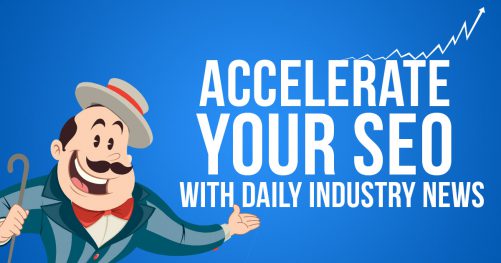 Accelerate your SEO with Daily Industry News
Copywriting & Content Marketing Tips SEO
Want to kill it with Google and see your search engine rankings soar???
One of the most effective ways to win Google's oh-so-fickle heart is by creating daily industry news content as part of your marketing strategy.
Google Rankings Matter
Let's face it; Google rankings are incredibly competitive. Everyone is vying for the number one search engine ranking or, at the very least, a front page ranking. If you want your target customers to be able to find you, you're going to need Google to rank you as high as possible.
The importance of top billing in Google searches is more critical than many businesses realize. Did you know that on average, 33% of search traffic will visit the site ranked number one in their search results but, by the tenth ranked listing, only a measly 2.4% will actually visit the site? How scary is that?
Even worse, up to 95% of the traffic doesn't even bother looking at the results on page two!
If your website isn't ranking numero uno on the first search engines page, you're basically kissing a large majority of potential customers goodbye. Don't get caught thinking, "Well, that's just internet customers. There are lots of other ways to attract customers." That's sort of true BUT research has shown that 81% of people perform their "homework" online before making a large purchase. So even if someone learns about your brand in some other way, they're still going to perform their due diligence online and you risk losing them when your competitors pop up in the top rankings instead of you.
The Two Sides of SEO
Step 1 – The Tech Side of SEO
SEO—search engine optimization—is how search engines like Google, Yahoo, and Bing rank the results when you perform a search. It helps the search engines to decide what should appear on the first page and what can be left towards the bottom.
There are lots of ways that SEO experts, like John and Pablo on our team, work to enhance your website on the back end to achieve measurable outcomes that improve your search rankings. These outcomes can include:
Increasing the organic traffic visiting your site
Increasing the organic conversions
Decreasing your bounce rate
Decreasing cost per lead
Ranking higher in search results for keywords
Increase in links from quality sites
They achieve this in a variety of ways, but that's a subject for another blog post. Learn more about SEO in our blog post, What is SEO?
If SEO isn't part of your existing marketing strategy, it should be. 57% of B2B marketers reported that SEO was their most successful initiative, bringing in more leads than any other marketing effort. According to estimates, businesses will spend more than $72 billion on SEO services this year alone. That's because a comprehensive SEO strategy consistently demonstrates a profitable return on investment.
Step 2 – The Content Side of SEO
Having a fully search engine optimized website is the first step, but you can push the envelope so much further by creating high volume industry news. Why? Because Google loves fresh, relevant content!
Daily industry news is, well, news released daily related to your industry! It should be published to your website every day. For example, if you're a solar panel company, the daily news would include engaging content and breaking news related to solar power and renewable energy. Or if you're in the business of building small parts for satellites, then the daily news would include articles related to space, science, and technology.
See how it works?
In our experience, clients who post at least one news article every weekday see an incredible boost in their traffic results. Some clients see such a significant return on this effort that we've been known to write as many as ten industry news articles per day for clients. We find, however, that three to five articles daily is the sweet spot for most businesses.
Why Google Loves it
Google's algorithm is constantly changing and becoming more and more sophisticated. Once upon a time, a simple keyword was enough to rank high up on a search engine's listing, but now with advancements like RankBrain, the overall quality and relevancy of your content plays a major role in how you're ranked. It's time to go beyond individual keywords to create content that deepens your relevance to audience interests.
Indexing
Google loves frequent website updates. Every time you publish a news update to your business website, you're providing Google with a new page to index. By adding daily industry news, you can really improve your search engine rankings as this shows Google that your website content is constantly being refreshed.
Consistency
Consistency helps build relationships. This is true with people, but it's also true with Google. Blogs that are updated with daily industry news curry favour with Google and are rewarded with better page rankings. The more often you update your site, the more that Google will recognize that your business is active and you'll have better success with their algorithms.
Keywords
As we've mentioned, solo keywords aren't as important as they used to be on an *individual* basis, but articles that are rich in a variety of keywords that are all related to your industry helps to emphasize overall relevance. In fact, individually, keywords are not even in the top-10 ranking factors for SEO. BUT the algorithms do look for content that includes a variety of keywords and keyword strings that work together as part of the natural flow of content. Focusing on broad topics instead of specific keywords when crafting your content is essential for today's SEO.
Organic Reach
One of the great things about daily news articles is that they aren't (meant to be) sales pages. They're designed to be related to a specific niche that will appeal to those niche readers. This makes news articles more organic in the way that people relate to the content. As a result, websites that include daily news rank much more favourable with Google, much more so than a static website that's hardly ever updated.
To compete for top rankings, your website needs to include as much content as possible that engages and gives value to your target audience. Daily industry news emphasizes engagement with quality content that people are searching for.
What's more, frequent updates keep your target audience engaged and excited to come back to your website, again and again.
Implementation: Daily Industry News
Making daily industry news a part of your marketing strategy has indisputable SEO advantages. However, it's time-consuming and probably isn't the best use of your time or the time of one of your team members. It takes dedicated copywriting resources to manage it properly, but that expertise is much more affordable than you may realize.
At Barker Social, we can provide a dedicated resource to write and manage your daily industry news as part of cost-effective monthly packages. Our team will manage the cycle seamlessly, crafting engaging, relevant, well-written copy to help build your brand with Google, along with your potential and existing clients and customers. The content is also always fully SEO optimized, making sure your prospective customers can find you first!
Better yet, as we write and publish the content, we can also help syndicate it across your social media platforms, broadening your brand's reach with seamless execution and results. This content marketing approach will help your business establish familiarity and trusting relationships with your target audience and turn more "browsers" into the customers you're looking for.
If you're ready to increase your standings with Google and drive more traffic to your website, contact us today for a free marketing consultation. Your success is our success, and we'd be happy to explore your business to ensure that we will be the right fit.