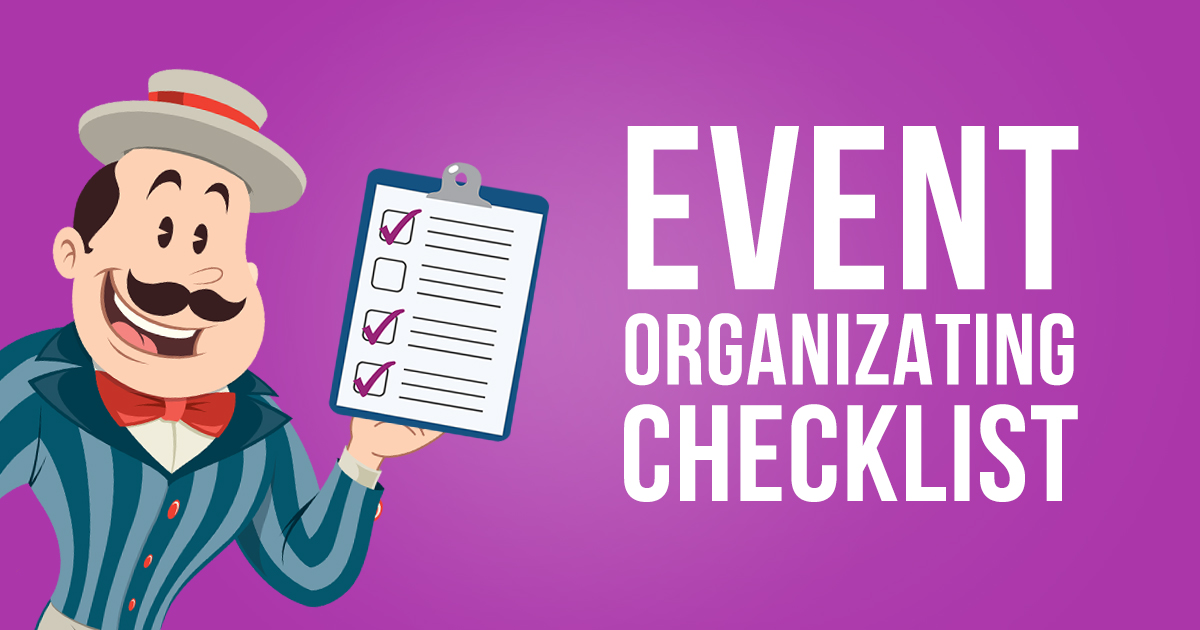 Event Organizing Checklist for Event Planners
Are you an event organizer? Are you looking for the best event organizing tips to help your event a success? If so, this article is for you!
Although an event should feel effortless for participants, it takes an incredible amount of planning, marketing, project management, and also stage management to run a well-organized and fun event. Detailed planning is crucial. You need a strong team of people that work well with you as well as a high level, realistic perspective, and did we mention you need to be organized? Really organized!
So, here's a checklist you can refer to when you're planning your next event that includes all of the best event organizing tips from our extensive experience as event planners and marketers. At Barker Social, we've done the marketing for major international events and our team leader, Mandi Gould, is also an event organizer. Her event accolades include TD Niagara Jazz Festival, Frankie 100 in New York City, Rawstock Niagara, Niagara VegFest, Swedes in New York City, Roaring Twenties Events, and countless others, along with the marketing for Caesar Fest in 2018.
Of course, every event is different, so scale this checklist accordingly depending on the size and scope of your event. A two-hour book club party is going to be scaled much differently than a four-day jazz festival. However, the core principles remain the same.
Here's your event organizing checklist:
1. Set the Date
It's vital to set your dates as early in advance as possible. Make sure to add the date to your website as early as possible too. And don't forget to be courteous and coordinate your dates with other organizers in your community. Let them know what you have planned and avoid conflicts when possible.
2. Book the Venue
The second most important step is to book and confirm your venue. Even if your event is annual and takes place in the same venue every year, you still need to confirm and book it. Make sure to lock in your venue as early as possible.
Remember to clearly mark your event city and location on your website so that Google starts to index your event ASAP. You want people searching for things to do in your city to be able to find you.
3. Send Out a Save the Date Announcement
Your full promotions might not begin for some time and you might not even have any other details set yet, but as soon as you have your date confirmed and your venue booked, update the public. It's essential to get the word out as soon as possible and start to garner interest. You should update your website with the preliminary save-the-date information, and send out the high-level announcement on social media and in your newsletter.
Creating a public Facebook event with 'Save the Date' in the title is critical so that people start to mark their interest. The more people who mark themselves as interested, the more their friends will continue to see the event listed. It's free marketing.
4. Build A Great Team
You may already have a core team in place, but depending on the size of your event, your team should include:
Director/Producer
Fundraising Lead
Sponsorship Lead
Treasurer
Stage Manager
Volunteer/Staff Coordinator
Registration/Tickets
Decorations/Creative
Marketing & Promotions Lead or Agency
Guest Liaison & Hospitality
Security Lead
Green/Eco Team Lead (particularly for outdoor events)
Roadie/Logistics Team Lead
Travel Liaisons
Etc.
A great event is only as good as its team. Not only do you need to find great people who you can work with, but you need to build a team that will be communicative and caring with each other. Building a team of hard-working, dedicated, mutually respectful, inclusive people is probably our number one tip when it comes to event organizing.
Pro Tip: Don't forget to set a schedule for team meetings. Depending on the size and scope of the event, meetings might take place in person or by conference call and should ramp up from monthly or bi-weekly to weekly leading up to the event. Setting the schedule in advance will ensure that people block out time in their calendars and will help avoid scheduling conflicts later.
5. Establish an Organizational System and Timeline
Get your systems in place. Take advantage of Google Drive for file sharing, Slack for chat, and project management software like Asana. Google Docs is our best friend when it comes to live file sharing. We can't live without our shared folders and spreadsheets!
6. Budget Budget Budget
Get serious about your event budget. Remember that every event is scalable. If your event is in its infancy, be conservative. Start out small. Make modest projections of how many guests you might realistically expect to attend your event. It's advisable to under-budget on attendance while over-budgeting on costs to ensure that you have a safe buffer zone for unexpected expenses.
There are always unexpected costs, and even with extensive experience, you can never anticipate what they'll be. Set aside some extra cash in your budget for emergencies and unforeseen circumstances. I recommend a buffer of at least 10%-15% as a safe zone.
You should also set out a clear policy for expenses and reimbursements. It can be very tough for staff, and especially volunteers, to carry expense costs around for too long before submitting for reimbursement. Set up a transparent system for your team. Be very cautious about asking volunteers to expense items. It's much better to use a petty cash system, and also have the petty cash available onsite during the event. Have a dedicated event credit card when possible.
BTW, don't forget to be clear about your refund policy. If your event has a no refund policy, it needs to be crystal clear on your website.
7. Make Your Event Special
Determine the specific details that will give your event character. This will depend on the type of event that you're holding. Whether it's booking and determining special guest needs, booking bands or artists, securing guest speakers or instructors, celebrities, local officials, etc. now is the time to work within the budget that you created and shape your event into a blend of your dreams and reality.
This is also the time to manage any artist contracts and riders and lock into specific guest requests. Always get it in writing!
Consider all the ways that the event will affect the guest experience:
The event's vision & mission
Event branding, tone, messaging, communications
Entertainment and/or educational value
Decorations & overall feeling of the event
Flow & energy; what kind of "ride" will you be giving your attendees throughout the event. You don't want to underwhelm your guests, but you also don't want to overextend and plan more than is realistic for them to absorb.
Create value so that guests walk away feeling like the event was a worthwhile experience that was worth the price of admission – even if the event was free!
Go back to your budget constantly to tweak it and ensure that everything still fits.
8. Operations & Logistics Planning
Now it's all about balancing logistics with the flow of your event. What should take place when? What parts of the event will be the best slotted in where? What logistical support will be required based on how your schedule flows? Think about the way that your event flow will feel from your audience's point of view, and also consider the human resources that will be required to execute that plan.
As you lock into your finalized schedule, be as realistic as possible about how much time needs to be allotted where. Various aspects of event set up always take longer than you might think.
Organize Registration & Tickets
Unless your event is free, you'll need a way to manage attendance. We've recently started using EventsFrame and love it! There are no ticket fees for participants and just a low flat fee for the organizers. If you've ever bought tickets from a service that has a big ticket fee at checkout, you know how annoying it is. Not having that fee will make a positive impression on your customers and will help you to sell more tickets rather than losing them during the checkout process.
What type of ticket or wristband will be most appropriate for your event? Will you use e-tickets? QR codes? Paper tickets? What will your re-entrance policy be if someone leaves and wants to come back in? Will the tickets or wristbands be enough for re-entrance, or will you need a hand stamp of some kind?
Determine Technical Needs
Determine Equipment and Supply Needs
Determine Administrative Needs
Establish an On-Site Communications Plan
How will your team communicate throughout the actual event? One great way is to use walkie talkies with the earpiece attachment. We always rent these for larger events.
You'll also need to make sure that you have someone who will be in charge of fielding phone calls, social media questions, and emails from the public during the event, or set an automatic response that includes all of the FAQ information that someone might need at the last minute.
Consider All Possible Onsite Needs
Get your team involved to make sure you're considering every possible scenario. Are there gaps in your planning? What are all the "what ifs" that could happen? What are your contingency plans?
Will your guest artists need water? Lunch? Who will be responsible for that? Are there enough toilets onsite or do you need to order port-a-potties? Is there enough seating? What about coat check? How will you accommodate people with disabilities?
Think about all of the variables, then think about them again so that nothing slips through the cracks. Revisit this line of thinking often.
9. Launch Your Marketing Campaign
This is where things get fun! It's time to market your event:
Use An Event Hashtag
First thing's first: in today's digital world you need an event hashtag. Every time you mention your event, make sure you include the event hashtag. This goes for your social media posts and also on your other marketing channels, you should even put it on your printed material! Reinforcing your event hashtag helps anchor your event and keeps it fresh in people's minds because you want people to use the hashtag to tag all their posts and photos!
Every use of the hashtag by your attendees becomes free publicity for future events. It's also a good idea to have a clearly displayed sign with the hashtag onsite to remind people to use it.
Make sure all your social media accounts include your hashtag in the bio and don't forget to mobilize everyone taking part in the event such as speakers and performers to use the hashtag when talking about the event in the lead-up weeks. This will help you reach a wider audience base, create a buzz about the event, and bring in more participants.
Pro Tip: Choose a clear, easy hashtag that people will remember, and that's easy for them to spell correctly.
Leverage Social Media
Your Facebook Event that you sent out as a "Save the Date" during the early event planning is one of the strongest marketing tools at your disposal. Post to the event page often to stir up conversation. Ask on-theme questions, share photos, and create a buzz that keeps the event fresh in your audience's mind.
Don't forget to update the "About" information for the event and definitely include the "Find Tickets" button to make it as easy for people as possible.
During the early stages of the event, including the "Save the Date," it's worth boosting the event to get as many people "interested" as possible. The more people who mark themselves as interested in a public event, the more their friends will see the event listed in their newsfeed.
Later, once you're ready to sell tickets, you can run more sophisticated ads that drive people to your website's ticket page or to a landing page. Don't forget to add the Facebook pixel to your website so that you can re-target people who have shown interest in your event with additional ads later.
Instagram is a great platform to establish the look and feel of your event with great branding. What will the tone of your event be? Fun? Professional? Wild? What's your theme? Who will it appeal to? Search for people who might be using hashtags related to your theme, industry, and brand and comment thoughtfully on their content so they can get to know your brand and become curious about the event.
Instagram is also great for behind-the-scenes photos, such as event preparations or key speakers and performers.
If you've run events before, then share photos showing how successful previous events have been that'll attract people to participate. In particular, after the event, regram photos that people have shared from your event by searching for your event hashtag.
Use Twitter for real-time updates both before and during the event and don't forget to use your event hashtag.
LinkedIn can be an excellent platform for marketing if your event is focused on a professional audience. There are communities of people interested in specific topics, so find one that fits with your event's central theme and start to join the conversation as a way to market and promote your event.
It's All About SEO
Google isn't just great for finding websites and businesses. Plenty of people use the search engine to find events too. So if you're writing a compelling description on your event page, publishing a blog post about your event, or sending out a press release, don't forget to optimize it for SEO.
In a nutshell, you need to:
Know what words people use to search for events (example: Toronto Events)
Optimize your content for those keywords (Are you looking for great Toronto events this new year? Don't miss the Roaring Twenties Events taking place at the Jam Factory!)
More examples: If your event has a DJ and a dance floor and you know that people often search for "places to dance in New York City," then you should use that phrase to describe your event.
If your event is outdoors in the summer with food and beer, make sure to include: great outdoor summer festival with food and beer in San Francisco.
Etc.
But what if you don't know what people search for? Not to worry. You can use several (free!) keyword research tools to help you like Keyword Tool or Google's own Keyword Planner—this one requires an AdWords account, but setting one up is easy.
Get Your Attendees to Help
Don't underestimate the power of crowdsourcing your marketing material. If you've organized similar events in the past, you can ask your existing customer base to post pictures or videos of the event using your event hashtag. Memories of your previous events coming from real guests are one of the best ways to build credibility with potential new participants.
But what if this is your first event? One great way to market a new event is to run a competition where potential guests submit pictures and simple videos on a topic linked to your event and tag them with your event hashtag. This will create buzz around the event on social media and winners can get free tickets, drink vouchers, or any other freebies you want to include. Just make sure that competitions are easy for participants; if it's too much work, no one will participate, and then the contest will feel kind of sad.
Take Advantage of Email
One of the most effective marketing tools is a great mailing list, and this will work well if you already have a list of attendees from your previous events. If not, start building one right away by adding a way for people to sign up to your email updates on your event page or website. Keep in mind, email is a direct line of communication to your guests, which can be marketing gold.
Think of an incentive to get people to sign up for your email announcements. For example, the first 100 to sign up get a discount on the tickets.
Here are some great ideas on how to use email to market your event and get more attendees:
"Bring a friend" offer. For example, if they get five people to register for your event, you can give them a special group rate
Use email to announce exclusive deals on your tickets like a guest list, early-bird specials, last-chance tickets, and any sales.
Use email to keep people posted about any ongoing competitions and giveaways you have on your social media channels
Email your list with exclusive previews of your speakers, performers, and activities.
Use email to get feedback via quizzes or surveys.
10. Check Up on your Event's Health
Now that you've marketed your event, it's time to check in on your event's health. Are your ticket sales where they need to be? Does the event need to be re-scaled based on the current level of sales? Scale back or add on to ensure that you can meet the needs of your event without losing money or overselling.
11. Walk the Critical Path
The critical path is the day-by-day, hour-by-hour schedule for the event that includes who/what/where/when/how for event details and staff. You can do this as a flow chart or in a spreadsheet. However you do it, get it down in writing and get your team on-board to create a functional critical path.
Don't forget about onsite responsibilities. Make sure there's a clear understanding among your team members of who is responsible and on-duty when. Who is committed to the early morning setup shifts? Who is dedicated to late night and clean up? Who is carrying the cashbox to and from the event? Does everyone understand that they have to charge their walkie talkies? It's vital that your team takes these time considerations and responsibilities seriously.
Make sure to review the Critical Path again in the final week before the event.
12. It's Showtime!
When it finally comes time to the event, follow the plan that you set out in your Critical Path but also stay flexible. An excellent event organizer is agile and will know when it's time to change parts of the plan and do what needs to be done based on the reality of the moment.
Don't forget to respect and appreciate your team members while the event is running, even if you're under pressure and feeling stressed. It's easy to get grumpy when you're busy and overwhelmed but that can quickly spiral out of control. We're always amazed by how much a friendly and appreciative word can mean to people, even under duress.
Although you'll be super busy during the event, try to be as present as possible. As an organizer, events tend to fly by from your vantage point behind the scenes, but try to appreciate what you've worked so hard to create!
13. Debrief Your Event
Once the event is over, conduct a post-mortem meeting as soon as possible to review how it went. Write detailed notes while the event is fresh in your mind and discuss the successful or needs-improvement aspects of the event with your team. This is your opportunity to learn and to make your next event even better!
Although you might be tired, don't postpone the post-mortem! While everything is still fresh, you'll need to review your finances and budget after the event and take a look at how your team worked together. Make sure you listen to the good, the bad, and the ugly because ultimately constructive criticism is far more valuable than any pats on the back. Don't be self-deprecating but don't succumb to hubris either. Live, learn, and improve.
Contact Barker Social
As you can see, organizing an event is no easy task! As we've emphasized, building a great team is crucial to the success of your event, so let Barker Social be a part of your dream team! We have years of experience organizing and marketing events and we can help you cross these critical tasks off your to-do list in a way that boosts your ROI and adds to your event's success!
Get in touch with us today and find out how we can help sell out your event and make it a huge success!