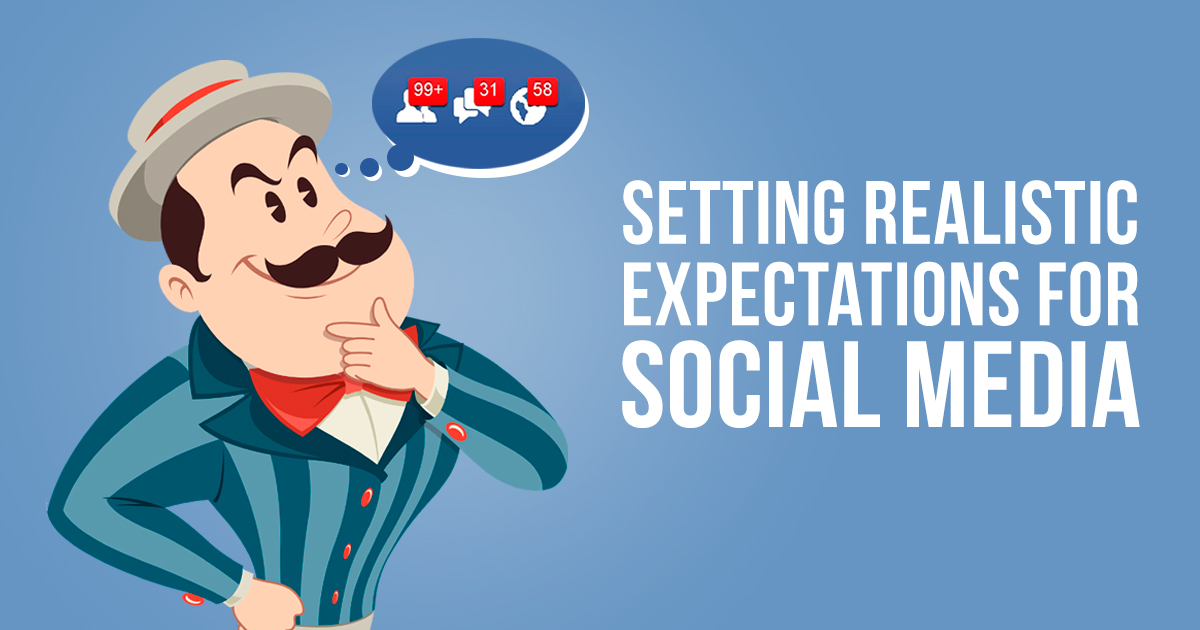 What Can You Expect from Social Media in Your First Year?
What outcomes can you realistically expect from social media?
It's exciting to launch anything new, and with every kind of launch comes a whole lot of hopeful expectations. We all want to succeed, right? We want people to recognize the great things that we're doing and we want to grow and flourish in our efforts. If we didn't want and expect this, then we wouldn't start out in the first place.
These feelings of excitement and motivation are important parts of getting started.
Then comes the next stage: getting realistic.
If there's one thing I learned from my time in the corporate world, it's this: you must learn to manage your clients' expectations. And frankly, you also need to learn to manage your own expectations in the exact same way.
Digital Shake Up
Unlike in the early days of social media where everyone "liked" everything, in the last couple of years, people have become more discerning about the content they choose to engage with. Understandably, they don't want to be spammed by a million businesses, bombarded with ads, and have their newsfeeds cluttered by promotions. And the social media world has gotten noisy.
All of this doesn't mean that social marketing isn't effective—it's extremely effective when executed strategically—but unless you're a big celebrity or a controversial politician, it's going to take time to build up your social media following.
One thing to keep in mind is that there is now a lot of game-playing going on in the social media sphere. A lot of brands play games wherein the primary objective is getting more followers. These brands follow you, regardless as to whether or not you're their target market, so that you'll follow them back, and then they unfollow you. Yeah, it's very annoying. This kind of game is all about "quantity over quality". Don't be like these brands. Remember: you need to attract the right audience if you really want to grow your business.
Also? Don't be lured into purchasing followers. Yes, you read that right. You can buy followers. But watch out! These accounts are fake and often full of porn, and that can have serious repercussions for your brand.
Growing your following on social media is exciting, and to do so, it may be tempting at first to resort to games or to buy followers—but it's the real followers that you want—real people who actually care about your business. But the success of your social media marketing is not just about how many followers you have, or how many direct sales you're getting directly from your social efforts. Most importantly, your purpose should be brand presence and visibility. Even if you aren't amassing a large number of followers, it doesn't mean that what you're doing isn't having an effect.
Brand Awareness
No matter what kind of business you have, a social media presence is important for creating brand awareness. Some brands are more naturally exciting than others and might easily get attention on social media, but most businesses don't get the immediate gratification of amassing lots of followers. For example, if your brand involves food, alcohol, fashion, pop culture, kittens, etc., it's going to take off on social media a lot faster. If you're running a less naturally "exciting" kind of business, however, like a professional service, it's going to take some patience.
Take our own story, for example. We're a social media marketing company—a professional service. We know how to create lots of great, value-added content and attractive brand visuals. We are well-versed in how to engage with social media users, and how to use all of the various tools and platforms to do so. We thought we'd disclose our results at the one year mark to give you some idea of what a professional service-type business can expect in terms of followers:
Number of Followers at 12 Months
Twitter: 804
Facebook: 252
Instagram: 616
LinkedIn: 25
These are not huge numbers. Of course we'd love to be able to report that we have thousands of followers, but the fact is that professional services, especially business-to-business services, don't easily attract big numbers of followers. Our own business is b2b. When you're b2b, your target audience is even more restricted than b2c. So, sometimes it not just that pro services are less exciting, but that they're also more limited in terms of reach because the services are so specific. But no matter what kind of business you run, it takes time.
Yes, getting a huge following can be tricky for new, professional service-based businesses, but—and this is a "But" with a capital "B"—there is a lot more that we've accomplished in a year than just accumulating new followers!
Breaking 1k Followers on Twitter
It took us 13 months to break 1000 followers on Twitter. We launched on August 30th, 2016 and broke 1k on October 10th, 2017.
I've included the number of times we've posted on each platform so that you can see the co-relationship between sharing content and getting exposure.
| | |
| --- | --- |
| Twitter | |
| Total Tweets | 5513 |
| Tweet Impressions | 525800 |
| Impressions per Day | 1449 |
| Profile Visits | 2547 |
| Clicks | 215 |
| Retweets | 769 |
| Likes (status) | 1714 |
| Replies | 100 |
| Mentions | 271 |
| Tweets Linking to You | 333 |
| | |
| Facebook | |
| New Posts | 547 |
| Reached | 42773 |
| Engagement | 894 |
| | |
| Instagram | |
| Total Posts | 364 |
| Image Likes/Views | 7189 |
| Comments | 548 |
| Total Followers | |
| | |
| LinkedIn | |
| New Posts | 372 |
| Impressions | 9089 |
| Engagement | 160 |
| | |
| Pinterest | |
| Total Number of Pins | 7297 |
| New Pins | 564 |
| Avg. daily Impressions | 307 |
| Avg. daily viewers | 215 |
| Avg. monthly viewers | 5425 |
| Avg. monthly engaged | 114 |
Website Sessions
In terms of our our website traffic, in one year we received:
4690 sessions by 3267 users, which included 8,136 pageviews. Our average website session was 1:31. 30.5% of our visitors were returning visitors, and 69.5% were new visitors, ie. they only visited us once.
The website traffic is the result of an optimized website, as well as social media that encourages visitors to visit our website. These numbers still aren't massive, but they're certainly nothing to sneeze at either.
The Bottom Line
So what does all of this mean?
We all want to be successful, and sometimes this can feel like a bit of a popularity contest. But there's so much more that can signal your success than just the number of people who follow you on social media.
Don't let yourself be misled by looking at your numbers in the wrong way. There's more to social media than meets the eye, and certainly more than is reflected in your number of followers.
Just because someone isn't following you doesn't mean that they haven't noticed you. It takes time. It takes patience. It takes a long-term view.
When you're authentic, you'll attract the right followers, and you'll gain the right exposure for your brand.
If you need help with your social media marketing, take us up on our offer of a free consultation. Click here.