Why Facebook Ads Are Essential for Your Business
Do you share content regularly on your business' Facebook page? Great! "Getting social" is important for all contemporary businesses. However, it's quite possible that almost no one is seeing your content.
The fact is, unless you're boosting some of that content and, more importantly, running Facebook ads, your reach is extremely limited.
It all boils down to Facebook's algorithms. These algorithms may seem annoying, but there's actually a good reason for them. Facebook has controls in place to make sure that the platform doesn't get too "spammy", which would alienate many of its active users. If people were to log in to Facebook and see nothing but advertisements, they'd stop using the platform. The algorithms are constantly being tweaked to ensure that Facebook remains useful for businesses and enjoyable for the average user.
Your Target Customers Are on Facebook
Speaking of active users, there are over 1.86 billion monthly active Facebook users as of 02/01/17. (Source: Facebook) That's a seriously important pool of potential customers no business can afford to ignore.
Since almost everyone uses Facebook, it's easy to see why it's such an important avenue to reach your target customers. In fact, 1.23 billion people log onto Facebook every single day.* Facebook targeting is extremely powerful. You can hone in on who you want to see your ad according to their location, profession, personal habits, age, gender, interests and hobbies… you name it, you can target it. (Not to mention the amazing power of Facebook pixel tracking… but that's a subject for a whole other blog post.)
Facebook and Brand Awareness
One of the most important marketing goals for any business should be to establish brand awareness.
You want to make sure that your current followers hear from your business regularly as to remind them of your existence ("hey, remember us?"), but you also want to reach new people who may have never heard about your business. All of these people might not be ready to buy from you today, but when they are ready to buy – tomorrow, next month, or next year – you want to make sure that they know about you and think of you first.
I'd argue that today, in 2017, there is no better tool available for creating brand awareness than Facebook ads.
And guess what?
It's completely affordable.
Cost Comparison
At Barker Social, we start out our A/B testing of Facebook ads at as little as $25-$50 per ad, in order to gauge the response. Does the ad resonate with our target customers? Is the image and language engaging the people we want to reach? With Facebook ads, you can apply just a small budget to two ads to test the response and make sure that your ad is doing what you want it to do. Then, once you know what's working, you can increase your budget.
Depending on your goals, the size of your business, and your marketing budget, your monthly Facebook budget might be $100, $250, $500, $1000… that's up to you. Your goal should be to be to pay a maximum of $0.99 per click. We consider $0.15 to $0.99 to be a good CPC (cost per click) rate, depending on the industry. Doing A/B testing first will help to ensure that you're on target, and from there, you can check on your ad and continue to tweak the target audience as you go.
What About Other Digital Marketing Ads?
Another great thing about Facebook ads is that they're synonymous with Instagram ads. Facebook owns Instagram and all of the advertising is run through the Facebook dashboard, so when you create a Facebook ad, it will reach users on either platform, based on the target audience attributes that you select.
No other platform even comes close to producing Facebook's results when it comes to advertisements.In almost every case, Twitter ads are not nearly as successful as Facebook.
Even LinkedIn is advertising on Facebook! How hilarious is that? The irony is not lost on us. 🙂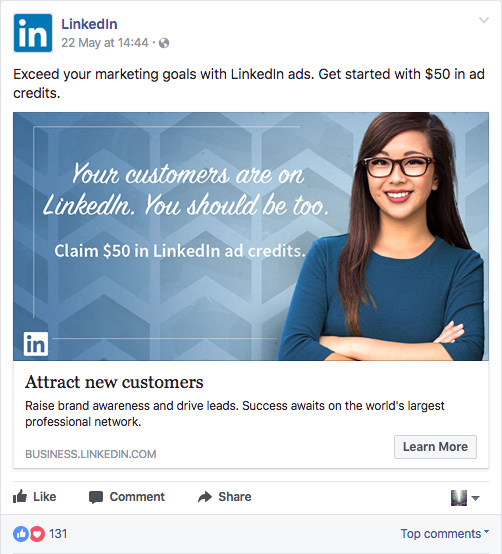 And Google Adwords? That's a whole different animal. Google Adwords targets people who are already actively searching for specific keywords. That's great if people are looking for your service or product right now, but it does very little to help build your brand awareness. Plus, Adwords is a lot more expensive.
The Bottom Line
The bottom line is that Facebook advertising works. You can reach people who you never would have been able to reach before, and the costs are nominal. Of course, maximizing the effectiveness of your Facebook ads does take some expertise. If you need help with your Facebook ads, get in touch. We offer a free marketing consultation and we'd be happy to take a look at your business and make some recommendations about what would work best.
***
*Source: https://zephoria.com/top-15-valuable-facebook-statistics/