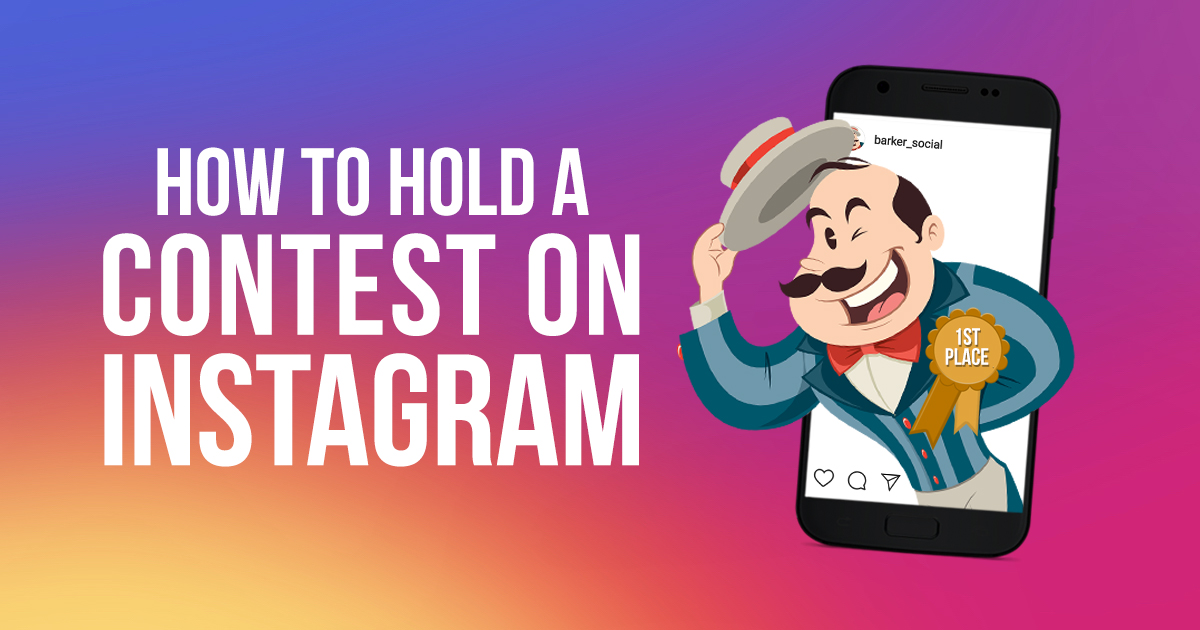 How to Hold a Contest on Instagram
Marketing Tips Social Media Marketing
Have you ever participated in an Instagram contest? Even if you didn't win, did entering the contest get you more excited about the brand?
There are few things more exciting than entering a contest and then hearing you're the big winner! It gives you a feeling of surprise, excitement, and even (for some reason) accomplishment. That's one of the reasons why contests are so popular on Instagram.
But did you know that the act of simply entering a contest—not even winning, just entering—also helps to create a strong bond between your participants and your brand? It's true! When people enter a contest, they immediately conjure up ideas of what it would feel like to win. They imagine how they would enjoy the prize. The psychology of contests is pretty amazing, actually.
No wonder why contests are such a fantastic way for businesses to drum up excitement for their brand!
Start Planning your Instagram Contest
So are you wondering how to hold an Instagram contest to help build your brand?
First, remember that not all businesses are successful on Instagram, and the same goes for contests. The brands that perform the best are visual, fun, and usually engaging in ways that include things like food, fashion, entertainment, style, travel, and services (but not professional services).
Instagram Contest Planning
Set Goals
Get specific about your Instagram contest goals. Do you want to boost your overall brand? Drum up some excitement about a new product? Try to draw new followers to your account? You should have a specific goal in mind, so you have a metric of success at the end of the contest.
Determine your Prize
It's important that you have something desirable to give away. People love to win experiences, tickets, and exciting products to try. Provided you've got something great to give away; your contest can be a success! Your giveaway can be a great way to get your brand in front of new people, build excitement for your product or services, and strengthen a feeling of connection with your followers.
Your prize needs to be enticing enough that it will excite your audience and get them to enter, but not be so expensive that giving it away would be greater than the benefit of holding the contest. If your prize is large in size and requires shipping, that's also something to keep in mind.
Clearly define what the prize is (and isn't), so it sounds desirable and doesn't leave any room for confusion. It can be a good idea to mention things like "no cash value" or "prize can not be exchanged" or any other limitations just to make sure the winner knows precisely what they're going to get.
Be Clear About the Rules & Format
Like with any promotion, running a contest requires a bit of pre-planning to make sure everything goes off without a hitch.
The very first thing you want to do is make sure that it fits with Instagram's Official Promotion Guidelines. It would be a real shame for you to do a ton of work, getting hundreds of entries, only to have the contest be taken down because it doesn't fit Instagram's terms and conditions.
Next, you need to figure out a format for the contest. If your goal is to get lots of people interested in your product or brand, you want to make it easy for people to participate. The more complicated the rules or requirements, the fewer people will enter. If you have too many hoops for entry, the majority of people just won't go to the trouble.
The most accessible and popular kind of contest to hold is the "Follow, Like & Tag" model. This is when the contest guidelines go something like this:
Follow X on Instagram
Like this Post
Tag 2 Friends
Then you would pick someone at random as the winner. We usually look at the total number of responses and then pick a number at random. Then we count down to find the winner. (Always confirm that the person has fulfilled the requirements of following your page and tagging appropriately, etc.) Then send the a direct message to let them know they've won!
Besides this kind of contest being easy to administer and participate in, it's also a great way to build up your followers because when someone tags their friends, and they see that there's an exciting contest taking place, they'll probably want to participate too! These are small asks for entry but could result in significant results for your business.
However, if you have an exceptionally appealing prize, like a trip giveaway, you might decide to ask for something more substantial from participants. For example, you might ask your followers to post a photo or video of them doing a required task with a specific hashtag attached. However, that's a fair bit of work, and fewer people will see it through.
How will you choose a winner? Through random selection? That works well for the "Follow, Like & Tag" model. For more significant contests, you might select the winner through voting or a jury. Just remember that it gets a lot more complicated to administer.
However you decide to run the contest, be super clear about all of the rules in the initial post to make sure there's zero confusion among your followers.
---
Free Instagram Contest Template
To get started running your first Instagram contest, here is a contest template for the "Follow, Like & Tag" model that will give you an idea of what to post.
Title: Win XXX!
Follow up Description: Enter for a chance to win XXX.
How to enter:
Like this post.
Follow @name on Instagram
In the comments, TAG two friends (tag multiple friends with two tags in each comment for more chances to win)
Once you have successfully completed the above steps, you are officially entered in the contest. Winner will be chosen at random and will be notified via direct message. Good luck!
Contest closes XXX. No cash value.
#contest #giveaway (+ additional hashtags)
---
Examples
 

 

View this post on Instagram

 
Don't Forget to Create an Enticing Visual!
Your imagery matters. A lot. This is Instagram afterall!
You need an attractive, attention-grabbing image for your contest. This is not the time for a DIY image; get the help of a graphic designer to make sure that your image is on-brand and beautiful. Remember that when it comes to Instagram, the words and everything else are really secondary to the image, and if someone doesn't stop to look at the image, they'll never get to the rest of the text. So when you're posting about your prize, you need to make sure that there's an enticing visual attached!
For "Follow, Like & Tag" contests, you'll only share that image once because you need to keep all of the comments in the same thread. However, you can share that image in your stories daily. Also, talk about the contest in your stories with some personal videos for a more social touch.
Write Great Promotional Copy
When you're writing about the contest and prize, make it as enticing as possible, especially keeping in mind that not everyone who sees the contest will already be familiar with your brand. Don't just focus on the prize itself. Instead, focus on the benefits!
For example, let's say that your prize is a float session at Vital Float, a revitalizing float wellness centre located in Toronto's historic Distillery District. Float sessions are hour-long sessions where you lay floating in a relaxation pod full of a highly-concentrated Epsom salt solution. I mean, it sounds intriguing, right? You want to know more about floating! So, give your audience beneficial details in Instagram posts promoting the contest. Talk about how floating can help with aches and pains. Talk about the health benefits. Be sure to pick a prominent benefit to mention it in every post. For example, "Would you like to win a deeply relaxing float?" The float is the prize, but the big benefit is a deep level of relaxation.
Don't forget to hashtag the heck out of your Instagram contest posts. You get a maximum of 30 hashtags, and we recommend using all 30. The hashtags will help drive new people to your contest.
If you're throwing a contest where people have to post or share content on their profiles, you'll need to create a unique hashtag for them to include with their posts. Without this, there isn't going to be any link between the contest and the engagement it's creating, and you won't be able to find the participants. It should be easy to spell, memorable, and relevant. (Not going to lie, sometimes coming up with a great unique hashtag might be the most challenging part of your contest copy. But without one, all of your efforts are going to be wasted! If you want a springboard to bounce some ideas off, feel free to drop me a line!)
Go For It!
And that's all you need to get started with your first Instagram contest. Now comes the elbow grease; filling it in with enticing and fun details! If you want some help getting your Instagram contest up and running, we'd be glad to lend you a hand! Get in touch with us today for a FREE consultation. Let's create an Instagram contest that will engage your followers, attract new ones, and generate a ton of buzz about your brand and small business!