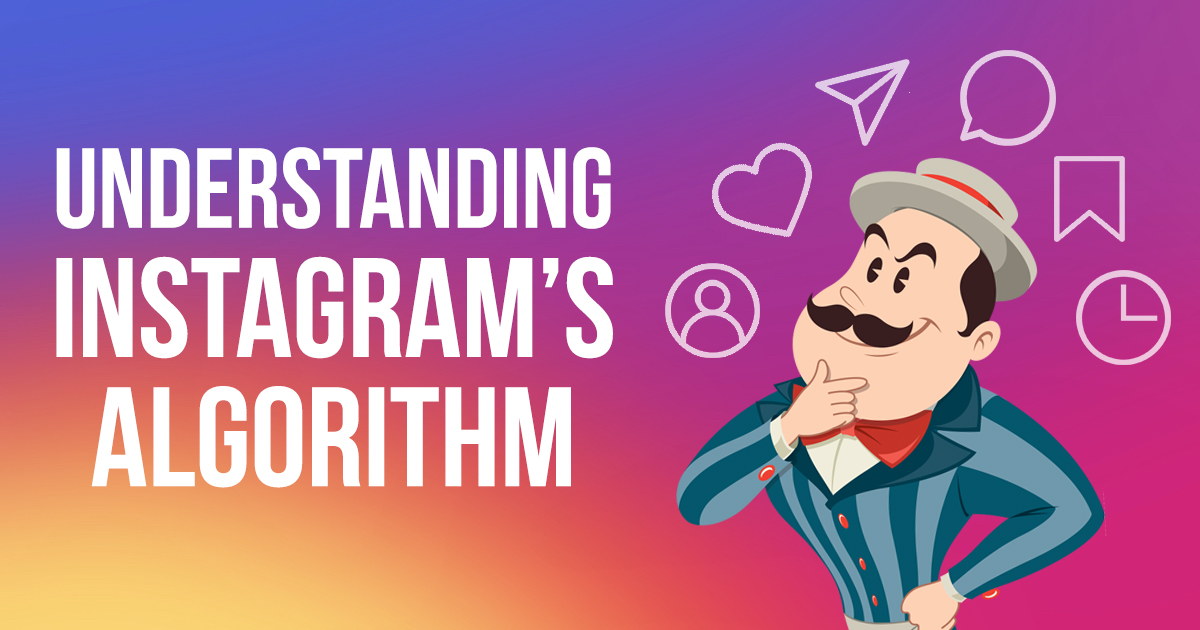 How to Work With the Instagram Algorithm In 2021
Marketing Tips Social Media Marketing
Written by Samantha Taylor
Wouldn't it be nice to understand the Instagram algorithm well enough to increase your visibility and engagement rates?
If you're like most business owners, you probably think that the Instagram algorithm is working against you. Instagram recently shared insights about how the algorithm works and I'm going to share with you exactly how the Instagram algorithm works.
What is the Instagram Algorithm?
The algorithm has to do with tracking and managing the flow of actions and data within the Instagram app. This includes the content you share along with the people you have interacted with, the posts you've engaged with, and the videos you watch.
Feed posts, stories, Reels, and IGTV videos along with all of your interactions play a role in the algorithm.
No user's Instagram Explore feed is the same. Each feed is tailored to the individual user's interests and the more you use Instagram, the more it can get to know you.
Have you noticed how you tend to see the same type of content? When you take a look at the Explore feed now, you'll likely see that it reflects your interests and user behaviour.
My explore feed for example is filled with vegan content, my horoscope, and inspirational quotes, because this is what matches the posts I regularly interact with.
Now, do you start to see how the algorithm wants to work with you rather than against you? The trick is to understand it and to tailor your content, actions, and interactions to be in sync with the target audience you want to attract.
So how does the Instagram algorithm even work?
For the algorithm to work more in your favour, you have to create content that your audience actually wants to see.
Think about it this way: your home feed and Explore page show the type of content that you're interacting with the most. This means that for your content to get in front of your ideal audience, you need to create engaging content that they love to interact with!
When you post new content on the platform, Instagram will rank it in a few ways. Criteria includes when it was posted, location, how interesting people find it, and more. Ultimately these factors all contribute to the content's popularity. The more popular something becomes among Instagram users, the more Instagram will continue to share it. And when they do share it, it's with the type of people who are most likely to interact with it.
Shares, saves, and comments all help when it comes to your post ranking high. So creating high-quality content that your audience is interested in is key to working with the algorithm.
There's an endless amount of content on Instagram, so what you're posting needs to resonate with your followers for it to be placed in front of them.
There are Various Algorithms
Home Feed
People want to see content from the people they're closest to, and that's what shows prominently in their feed and stories. Content is also ranked by how popular it is, when it was posted, interest, and activity. Stories that have been shared by another user are sometimes valued less because most users are interested in seeing original stories. (Though we still recommend using Stories for natural friendly interactions and tags.)
Stories should be a huge part of your marketing strategy on Instagram. 500+ million people use Stories daily and one-third of the most-viewed stories come from brands.
Source: https://sproutsocial.com/insights/instagram-stats/
Explore Feed
The Explore feed is for discovering new things. Your engagement with other posts is monitored to put together the content you might be interested in. Instagram uses its understanding of your interests to suggest photos, videos, and Reels that fit your profile.
Reels
Instagram puts Reels in front of you by monitoring your behaviour. This includes: recent Reels you've engaged with, your history of interacting with the person that posted, the context of the Reels, and each Reels' popularity. Instagram avoids distributing Reels that are low-resolution or watermarked. (So no more repurposing TikTok videos on Instagram)
Reels are huge on the platform in 2021, so be sure to start using them if you want to skyrocket your exposure!
Strategy: Attract More Reach from Your Ideal Audience with Giveaways
Mandi, our lead marketing dynamo here at Barker Social, is also the marketing director of a vintage cruise brand, Ahoy Vintage Cruises. She was able to create a partnership with an extremely popular vintage clothing brand, Vivien of Holloway, to offer an appealing giveaway.
View this post on Instagram
The giveaway attracted nearly 1K comments and new followers. It also helped nurture the algorithm by giving a boost of engagement with the right target audience. This example shows how valuable content that targets an audience can leverage the algorithm to your benefit.
Giveaways are great for growing a specific audience, brand awareness, and followers.
You will see how the giveaway rules include following the accounts tagged, liking the post, tagging a friend, and commenting. This boosts post engagement and brand visibility which works in favour of the algorithm.
This is just one strategy for working with the algorithm. Every strategy should be considered based on your specific niche and target audience… But with a little creativity, the potential to use the Instagram algorithm to your advantage is extensive.
Bringing It Home
With this core understanding of how the Instagram algorithm works, you can stop fighting against the algorithm and start working with it. Remember that the primary key way to stand out on Instagram is to share high-value content tailored to your audience.
There's a great deal of strategy that can go into a successful Instagram account to help grow your business. If you're still feeling a little overwhelmed trying to figure out the platform, you don't have to do it all alone. Contact us today for a free consultation where we can discuss what strategy would be the best fit for your business.
Special thanks to Samantha Taylor for writing this blog post!