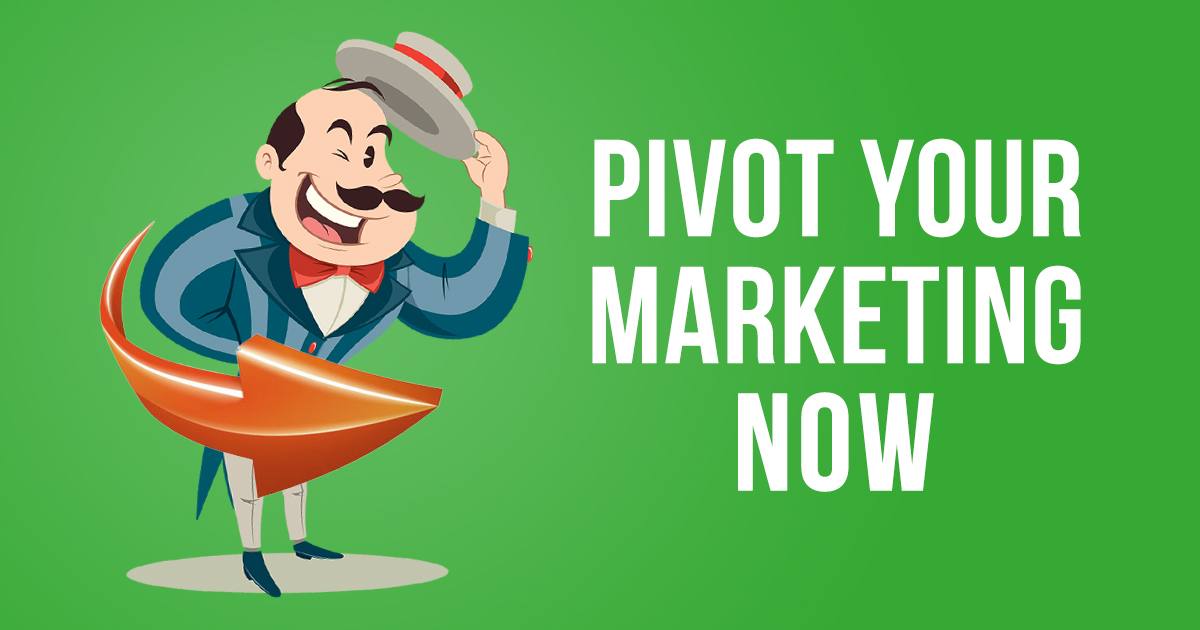 Pivot your Marketing NOW
Marketing Tips Social Media Marketing
Whether your business has just been hit by COVID-19 or you're still cruising along reasonably well—for now—this is the moment to PIVOT.
It's like the old adage; change before you have to.
Well now you have to change—in most cases urgently. Even if you aren't feeling the pinch quite yet, you're going to have to change very shortly so it's best hop to it!
However, what many businesses aren't realizing is that you don't necessarily have to pivot your entire business operations. Pivoting your marketing strategy may be enough to get through these hard times.
Shift in Mindset
What's really important right now is that you make people CARE. Whether you believe this is a recession or the beginning of a bigger depression (I believe the latter), simply offering solutions to problems isn't going to be enough. Everyone is going to be tightening their spending and that means you need to touch the emotional side of the buying experience in order to convert hesitant leads into real sales.
Right now there's one big advantage: There's an overriding message of SUPPORT LOCAL BUSINESS. But almost no one is making it CLEAR and EASY in their marketing for their customers to confidently pull the trigger on purchasing decisions. Because in order for people to decide to buy right now during these troubling times, they need to FEEL GOOD about the decision to purchase.
What's Important
If you do it right, taking an assertive SHOP LOCAL message is one of the best ways to make people care about your business and convince them to buy. Even if you're a virtual business with worldwide capabilities, nothing is going to be as strong in the coming weeks and months as the #ShopLocal angle.
Reminding people about how they can support their neighbours and keep money in the local economy is a powerful marketing message. You need to make people feel rewarded on a philosophical and personal level when they choose your business. This is a critical tool to convince potential buyers to take action now rather than deferring purchasing decisions until later, "when the economy gets better".
Connect with potential clients, make them CARE, and convince them to buy now, despite the uncertain times.
For small local businesses, I see a huge marketing gap that almost no one is taking advantage of:
Postal Code Targeting
Facebook and Instagram Marketing is POWERFUL, CHEAP, AND EFFECTIVE
Now let me be very clear about this: if you have ever run Facebook ads using the "boost now" button, please stop. It's a waste of money. That's only a surface level way to run a promotion. Real advertising with full, sophisticated targeting needs to be done through the Ads Manager at business.facebook.com.
Most businesses have no idea that postal code targeting exists or how to use it, but it's the only good way to reach the clients you need to for a successful #ShopLocal campaign. And it's the very best way to run aggressive, targeted advertising to a very specific audience.
Postal code targeting is a huge boon right now because it will allow you to get very specific with the "shop local" message so that you can target the right people with the right promotions. Your marketing message needs to:
Remind people that it feels good to shop local.
Be clear about health and safety (particularly for the food industry).
Make purchasing as easy as possible with delivery and easy online ordering.
Run targeted Facebook and Instagram ads set to specific local postal codes.
Postal code targeting on Facebook (and Instagram, which is run alongside Facebook within the business manager) can be a golden ticket with the right #ShopLocal message. It's a great way to be both personal and aggressive at the same time. You can even offer promotions for specific postal codes to make people feel special and to add a sense of urgency:
We're offering 15% off for deliveries in the M4L 1P1 postal code all this week! Order now.
You can even name specific street names instead of the postal code to make it extra personal. What's great about this is that you can also streamline your delivery plans while targeting your market. Don't be afraid to run a series of similar but separate ads to each individual postal code.
Make It Easy
Just make sure that your ads drive people with a clear call to action that's easy for them to complete. Ideally, you want to offer online ordering rather than phone orders. This is a good time to set up an online ordering system if you haven't already got one. If you need help with this, get in touch.
If you do need to take orders by phone, make sure there are easy online options for your customers to browse before calling. The more work and uncertainty, the less likely they are to pick up the phone and call.
RESTAURANT & FOOD INDUSTRY
Here's a rough example of the ad copy for the restaurant and food industry:
⭐Shop local and support your neighbours!
💫We're your friendly family-operated local restaurant; you can support our local business while also livening up your family dinner to break boredom!
🍏We're taking every health and safety precaution to provide you with delicious meals you can feel good about right to your door.
✨Order online with convenient delivery right to your doorstep. No contact or cash exchange required.
👉We're delivering right here in the neighbourhood so order now!
Personalize this message as much as possible with specifics about your business, your offerings, and the neighbourhood, and especially the target customers you're targeting.
BUY NOW/USE LATER PROMOTIONS
Obviously, there are many businesses that are completely closed right now. But that doesn't mean that you have to stop taking money. There may have never been a better time to run a "buy now, use later" promotion. Whether you run a salon, photo studio, retail store, or a music venue, you can use this strategy to push sales that people will feel good about.
Here's a rough example of the ad copy for a Buy Now/Use later business:
⭐Support our local business and feel great doing it!
🍎We're offering X special promotion if you BOOK NOW to use it later! Give certificates available XYZ details.
✨Order now and we'll be ready and eager to see you when life gets back to normal! Together, we can keep our local economy strong while providing you with the stellar product/service you're looking for.
🍏This special promotion is available specifically for the L2R 5P3 postal code so don't wait!
👉#ShopLocal and feel great doing it.
You can also break up your targeting to get extremely specific about your audience. Not only can you target by postal code but you can also hone in on families with parental messaging in one ad and in a completely separate ad to the same postal code, send a different message to singles. The same goes for pet owners, ads for just men or just women, seniors, etc.
This kind of targeted digital marketing is the best bang for your buck in advertising and it's extremely effective. Especially now when everyone is spending way too much time on the internet.
Bringing It Home
When the entire market drops out from under you, it's an incredible test of your business agility. Adjusting your marketing strategy can be the key to not just surviving but also bouncing back as the economy takes a turn. Just remember that your marketing message needs to be crystal clear and it needs to get aggressively in front of your local postal codes.
Every business is different and these examples are generalizations based on industry assumptions. Each and every effective marketing campaign needs to be tailored based on your business and your target customer. If you need help setting up an effective marketing campaign, we're here to help. We're a local business ourselves, located in Toronto and St. Catharines, Ontario. And because we're here to help, we're ready to offer deferred payments and discounts based on your business needs. Please get in touch and let's have a chat about your business and see if we'd be the right people to help.