Social Cards: What Are They and Why Do You Need Them?
If your content isn't equipped with social cards, it should be!
What Are Social Cards?
Social Cards, also known as Social Previews, allow you to choose the image, title, and description that will display on social media platforms when you or someone else shares your content.
If you've ever posted a link to Facebook and been dissatisfied with the image that appears with the link–an image that doesn't match the article, for example–it's because social cards haven't been configured. Without social cards, you never know what image Facebook will default to and pick as the display visual. The same is true for LinkedIn.
What about the content that you share on Twitter? Rather than just sharing text and a link, wouldn't it be nice if the link automatically pulled up an appropriate image and description to go with it? With social cards, you can ensure that the content you share is accompanied with a visual every time, and you can configure its size, too.
In addition to being able to configure the specific image for each individual blog post or page on your website, you can also configure a universal social card that will appear as the default on any page or post where you've forgotten to install an individual social card.
Why Do You Need Social Cards?
Last year I helped to write the copy for a very large, multimillion dollar museum in Australia. The web designers created a highly sophisticated website with all of the bells and whistles… but as soon as it went live and I announced the site on Facebook, it was immediately apparent that they hadn't configured social cards. The image that came up with the link did not do the museum justice. It was a dark and abstract photo pulled from somewhere on their website and didn't reflect the museum or the brand in a positive light. It was terrible. Hardly the way that they wanted to make their big debut! I pointed out the oversight and the web designers quickly fixed the universal social card.
Social cards are an important part of your visual branding, and every website should have them. Even if you aren't using social media actively yourself (…because you live under a rock?) you never know who might share your content, and it's important that your brand looks great every time.
Here's an example of how a blog post equipped with social cards will appear on Facebook: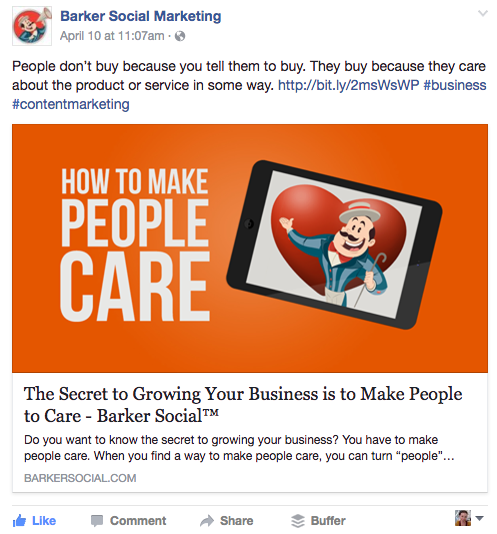 And here's an example of how a blog post equipped with social cards will appear on Twitter: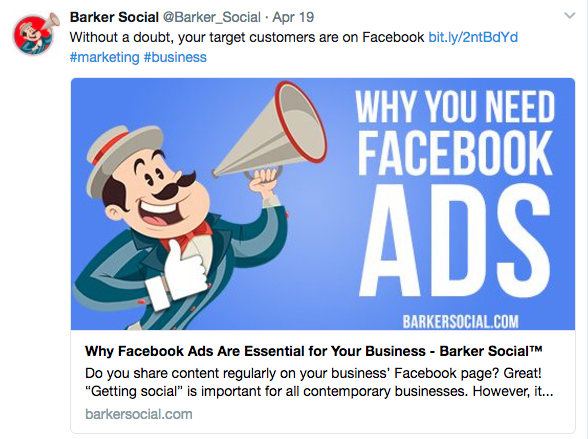 If you don't have social cards, you either have to manually upload an image every time you share a link, or share the same repetitive image that Facebook and LinkedIn pick up automatically from your website every single time you post. And on Twitter? You'll get no image at all!
Okay, So How Can You Get Social Cards?
We're devoted WordPress users and we use the Yoast SEO plugin for all of our websites. It's a great plugin for a number of reasons, and it makes it easy to configure social cards. It's very user-friendly and only takes few extra seconds to configure on each of your website pages or blog posts.
As of May 2018, we've also discovered an interesting tool called Any Image that facilitates making clickable social cards in seconds. It's pretty cool and something you should definitely check out.
We make sure that all of own and our clients' blog posts are configured with appropriately sized images. If you're not using WordPress for your website, it's important to check and see if you can configure social cards on your web platform. If not, it might be time to switch platforms.
As part of our ghost blogging process, whenever we write a blog post on your behalf, we always include a custom visual appropriately sized for Facebook and Twitter, and we post and configure the social cards for you. If you need help with your website, blog, and configuring social cards for your website, get in touch and we can have a chat.