Why Is Instagram Good For Marketing?
Marketing Tips Social Media Marketing
Marketing methods have developed and evolved significantly in the past 20 years. Many businesses have grown from traditional marketing materials like radio, newspaper, and street sign ads, and have now added social media, email, and influencer marketing strategies in order to grow their business.
One of the biggest social media platforms around right now is Instagram – a photo and video sharing app that is home to roughly one billion Instagram users worldwide. Roughly 200 million of these accounts are categorized as business accounts. Because of this, Instagram is an important space for small and large businesses alike.
An engaging and effective Instagram presence can be an extremely powerful marketing tool for your business.
Three Great Reasons to Use Instagram for Your Business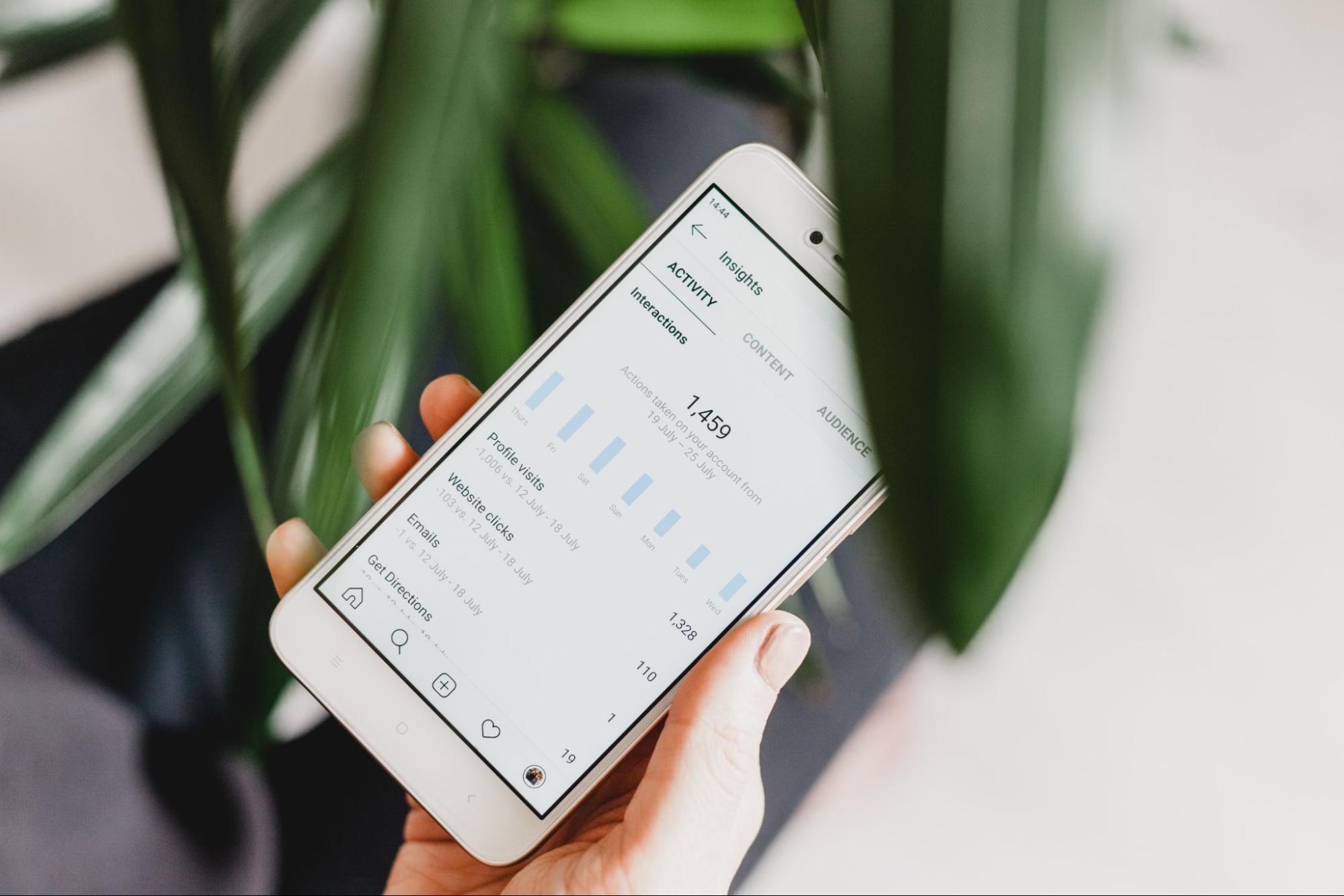 The strongest social media marketing strategy will make effective use of many different social media channels. These could include Instagram, Facebook, Snapchat, LinkedIn, TikTok, Twitter, and many more.
If you're thinking about creating an Instagram account for your business or creating ads for the social media platform, you may be a bit hesitant. If this is the case, here are three great reasons why Instagram is an effective marketing channel.
Millions of Potential Customers
As we've said above, Instagram is an extremely popular social media platform and is home to just over one billion users from all over the world. This means that your business has the potential to reach millions of users.
Further stats show that over 500 million of these billion Instagram accounts are active daily on the app.
As well, Instagram was recently bought by Facebook and allows you to merge your accounts on both platforms. Whatever you post on Instagram can immediately be posted on your Facebook business page. This not only opens up an even wider range of potential customers, but also the additional tools that Facebook provides.
Your brand has an enormous pool of potential followers, customers, and clients that are waiting to come across your business. Take advantage of this large audience and start using Instagram for your business.
Instagram For Business Tools
One of the most attractive features on Instagram for businesses is the option to create a business profile and access the various tools that are provided right on the app.
While other social media platforms offer various tools for businesses, Instagram's set of tools is perfect for new entrepreneurs and well-seasoned professionals.
WHAT'S INCLUDED IN AN INSTAGRAM BUSINESS ACCOUNT?
When you set your personal Instagram account to a business one, you unlock data, insights, and tools that can help you craft and evaluate an Instagram marketing strategy.
DEMOGRAPHICS AND INSIGHTS
One of the biggest tools that come with an Instagram business profile is the audience insight section which allows you to see what your audience looks like. This includes demographics like age, gender, and area as well as the most active time of day for your followers and the type of engagement you are receiving from your followers on various Instagram posts, videos, and stories.
These Instagram insights, when used effectively, can aid your marketing team in catering advertisements to potential customers while also engaging your current Instagram audience.
PAID ADVERTISING
Another great tool provided by Instagram for businesses is the ability to create and evaluate your paid advertisements right in the app.
There are three different basic types of in-feed Instagram ads that small business owners can use to boost sales and brand awareness. These include:
Photo ads – using high-quality photos as advertisements that include a link to your website or a specific product.

Carousel ads – featuring multiple photos that showcase different products, services, or aspects of your business.
Each of these advertisements can be used to reach your target audience by using relevant hashtags and when you target specific demographics. Your marketing efforts don't have to be in vain. Utilizing these tools available behind the scenes can be extremely influential.
Different Ways to Post Content
Instagram offers a variety of different ways to post your content. The social platform, which started out as just a photo-sharing app, evolved into more photos and videos as well as an online store and interactive app.
INSTAGRAM STORIES
One tool that can be used in your Instagram marketing strategy is an Instagram story. A story is posted by a user and stays on your profile for 24 hours. These stories can then be saved onto your Instagram profile for users to look back on later.
These Instagram stories can be customized to include stickers, text, colour, polls, questions, songs, locations, gifs, countdowns, and links. All of these customizations can be a strong addition to your Instagram marketing strategy set.
When you utilize Instagram stories effectively, you'll boost engagement, generate leads, drive people to your website, and grow in brand awareness.
INSTAGRAM REELS
When it comes to video content on the Instagram app, there are a few different options. One of the newer and more popular types of videos on Instagram is reels. These are short 15-30 second videos where creators can share clips from their life edited together, showcase a product, share some behind-the-scenes about the company culture, talk about their business, and so much more.
The length of the videos means they are fairly easy to make and can be edited right in the app with stickers, text, and Instagram filters. Reels are ideally viewed on mobile devices as you can scroll through them in a more user-friendly way.
Using relevant Instagram hashtags on the reel will help you reach your target audience and boost engagement.
LIVE VIDEOS AND VIDEO POSTS
For more long-form content, you might consider posting clips on your profile that are not confined to a 15-30 second limit. Previously, Instagram had a type of content called IGTV videos, which was a way for users to post this longer content. In the past few years, Instagram has removed this feature and just allows users to post regular videos.
As well, Instagram features the option to host a live video. Instagram live videos allow you to share a video in real time and have users watch content, and engage with you.
Brands can use this to ring in a grand opening, a new product drop, or just as a way to engage with their audience.
ONLINE STORE
One of the newest tools that is available on Instagram for business is their store/marketplace feature. Instagram has made it even easier for small and large businesses alike to grow their following and boost sales. Now, businesses can feature their products on Instagram and include links directly to where customers can purchase them.
The marketplace can appear on a user's organic Instagram feed or can be viewed on its own section of the app. If businesses can use the tool strategically, they can work towards boosting sales through Instagram.
Strategies for Instagram Marketing
So you're convinced that you need to start using Instagram in your marketing plan, but now you're wondering where to start.
Using Instagram effectively takes a bit of strategic planning, so here are a few tips that will help you get started.
Find Your Audience
Even though Instagram has over one billion users, you will need to narrow your scope in order for your tactics to be effective. Instead of trying to reach all of these users, focus your attention on a set of demographics.
Maybe your business caters to young mothers in the United States. If this is the case, don't try to reach adolescents, men in their 20s, or couples over 50 as they will not yield the same results.
Listen to your Audience
Once you've settled on an audience, you will want to make sure you are posting the types of content that they are looking for. Be sure to look at the various insights that a business account gets you, and evaluate what works and what doesn't.
User-generated content can also be an extremely valuable tool. This could be done through reposting a follower's story, an influencer sharing a review of a product, etc.
When you focus your time and resources on a select group of people, you are able to cater more to their needs and reach your goals more efficiently.
Post Consistently
As a brand trying to engage with a group of users, you do not want to slack on your content creation. Especially when there are lots of competitors on these social platforms, you want to compete to be at the front of mind. In social media terms, this means posting consistently and using all the tools that are provided to you.
One way you can keep up with this is by using a social media scheduling system. These kinds of systems allow your marketing team to create and schedule certain pieces of content every day. For example, you could schedule an Instagram story and reel to be posted on Mondays, a video on Wednesdays, and a regular photo post with another story on Fridays.
The key is to post at least every day, sometimes even multiple times a day on both your Instagram page and business Facebook page. That being said, you want to also ensure that your content is relevant, creative, and engaging.
Track Engagement
Evaluation is one of the most important steps in a marketing plan. After you have created the content, it's crucial that you analyze the insights and engagement. Are your followers interacting with these posts? Are you generating sales? Have website visits increased?
If these types of things aren't happening, you will have to make some changes. You might test out some different hashtags, different types of content, or even just post at a different time of day. These small adjustments can actually make a huge difference.
Stick to Your Business Goals
When you lose your focus, you miss the target. The same can easily happen with Instagram marketing. Choosing goals and sticking to them will add to the success and effectiveness of your marketing campaign.
If your goal is just to increase brand awareness, don't focus all your energy on boosting a product's sales. If you want to reach recent college graduates, you shouldn't be creating content that tailors more to middle-aged parents.
Be Creative and Have Fun With It!
The main thing to remember is that social media allows for a lot of fun and creativity. Trends come and go, so allow your team to be creative with their content. Many brands on social media nowadays understand that humour and creativity go a long way.
Even your Instagram bio and your Instagram captions can be a way to reach potential customers. You want your bio to share a bit about what your business is, and perhaps include a link to your website or contact information. Many businesses use a catch-all link that provides a user with the ability to follow several different links by clicking on them. This can be a creative way to link to different products or aspects of your business.
Captions can be humourous or incite a response from other users. Ask questions, share an interesting quote relevant to your business, or share a thought on a relevant thought. Whatever you do, make sure that it grabs your audience's attention.
Don't be afraid to go out of your comfort zone and try something new with a piece of content. You might be surprised by the results.
Working With a Social Media Marketing Agency
As any business owner knows, running your company is a busy and demanding job. With so much to do, it can be hard to do everything on your own. To ensure that your social media marketing is done well and yields results, you might consider working with a social media marketing agency.
Barker Social is a team of professionals in the marketing industry that work to meet all of their clients' needs. Some of their services include:
Facebook and Instagram advertising

Content Creation

Video Production

Event and Digital Marketing

and Search Engine Optimization
Start reaching your goals today with Barker Social.