Why We Always Recommend WordPress For Your Website
I'm in a lot of business groups on LinkedIn and Facebook and I see the same question almost every single day:
"Hi everyone, I plan to make a new website. What website platform do you prefer? Wix, Weebly, Squarespace, WordPress.com, WordPress.org…?"
I've been drawn into this discussion on so many occasions that I figured it's about time I write a blog post about it.
Whether this is for a business website or a personal blog, here are 5 reasons why at Barker Social we ALWAYS recommend WordPress for building your website:
1. If you plan to do any kind of marketing, WordPress is king
I'm going to address some other advantages of WordPress, but my top reason for steering people away from using other platforms is that those platforms are not equipped with the same power to back up your marketing as WordPress.
I've written a blog post already about the importance of social cards, aka social previews. If you're planning to share any of your content on social media, you need to ensure that the link you use will automatically generate an appropriate image associated with your link. That includes configuring each link's individual webpage and blog post with an appropriate image. Otherwise, when you share to Twitter, Facebook, or LinkedIn, you'll either a) get nothing but a plain old link with no image, which has no visual appeal or b) the exact same image pulling automatically no matter what page or post you share, which will look repetitive and boring. You also want to be able to configure the images associated with your blog posts so that the right size image appears on each platform, so that no text or important components of the image get cut off.
This is huge! Without being able to configure these social cards, your links might look like this:
VS.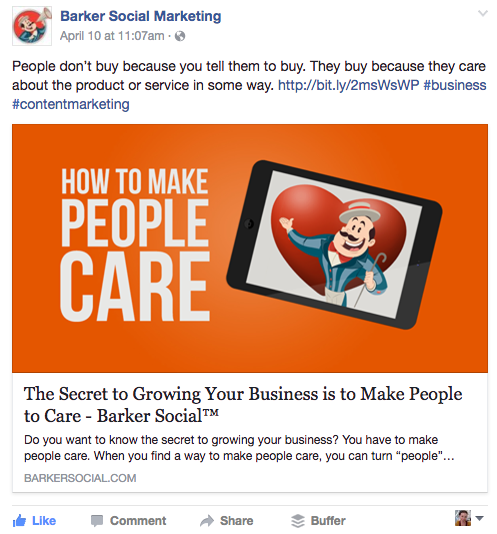 For configuring social cards, we recommend the Yoast plugin available for WordPress.
Not being able to configure social cards is what I personally see as the greatest disadvantage of those other website platforms. Nobody really talks about this, but I can tell you as a professional social media marketer that this is a HUGE drawback.
2. WordPress gives you the power of SEO capabilities
Google loves WordPress! Seriously. Not that it's impossible to optimize websites on other platforms, but WordPress sites are structured in such a way that you can really optimize the back end of your website so that Google will love you. And you want your website to appear high up in the search rankings, right? Of course! WordPress actually optimizes certain parts of your website automatically and also offers plugins that will help with your optimizing. Again, the Yoast plugin is a must for your website!
3. WordPress is easy to use
There's a bit of a learning curve with everything, and WordPress isn't going to just build your website for you at the snap of your fingers, but it still really is an easy platform to use. Even if you don't have any prior experience, you can get your website up and running lickety-split with WordPress, and once you understand the basic structure of the back-end, you'll be empowered to manage and update your website yourself whenever you need to.
If you want to make more significant changes to your website's layout or theme, like major CSS changes, it might not always be "obvious" how to do it, but it's possible to learn how to do things yourself. There are so many free resources out there that will explain how to do what you may have in mind on WordPress. There are also millions of virtual assistants out there who can help you make those slightly more significant updates quickly and inexpensively. You can also just search for "WordPress help" on fiverr and you'll find dozens of people ready to help you at minimal costs.
4. You own your own website
Okay, here's something important to note. We always recommend self-hosted WordPress. Using the WordPress.com platform where they host it for you is set up for rookies and it's certainly an option that you could choose, but save yourself some trouble and skip right to choosing your own hosting so that your WordPress site lives on YOUR own host. We recommend InMotion as a reliable host at a great price. That's what the ".org" is referring to, your own self-hosted WordPress website.
This is a huge advantage; with most other "easy-to-use" website services, they actually own your website. You get locked in with them. This will limit you from using a lot of the resources available and you'll be tied to your provider (Squarespace for example) for everything that you do. With self-hosted WordPress, it's truly YOUR website and YOU have complete ownership and control.
5. Plugins and Customization
With WordPress, it's absolutely incredible how you can just get an idea of some feature you'd like to add to your site, search for a plugin, install it, and get it working for you in minutes or even seconds. Plugins are amazing! Plugins are basically 3rd party resources that you can integrate into your website. They're available directly through the Plugins search option in your WordPress dashboard.
Many plugins are completely free. Sometimes the basic version of a plugin is free and you have the option to pay if you want the extended upgrades, or some plugins may ask for optional donations. The endless opportunity offered by WordPress plugins is an incredible advantage that will add value to your website.
As an extension of the the advantages we just mentioned offered by all those plugins, WordPress is 100% customizable. If you can dream it, it's possible with WordPress. Whether you want customized forms, ecommerce, private login areas, or anything else, it's possible either through the installation of plugins or a wee bit of custom CSS. Again, for the really fancy stuff, there are WordPress gurus out there who are ready to help you and the costs are nominal.
Choosing the right website platform is really something you want to get right the first time. Having to transition platforms later is a huge pain, a lot can go wrong, and can become costly. Don't cut corners on this; choose WordPress the first time. In the long run, you'll thank yourself!