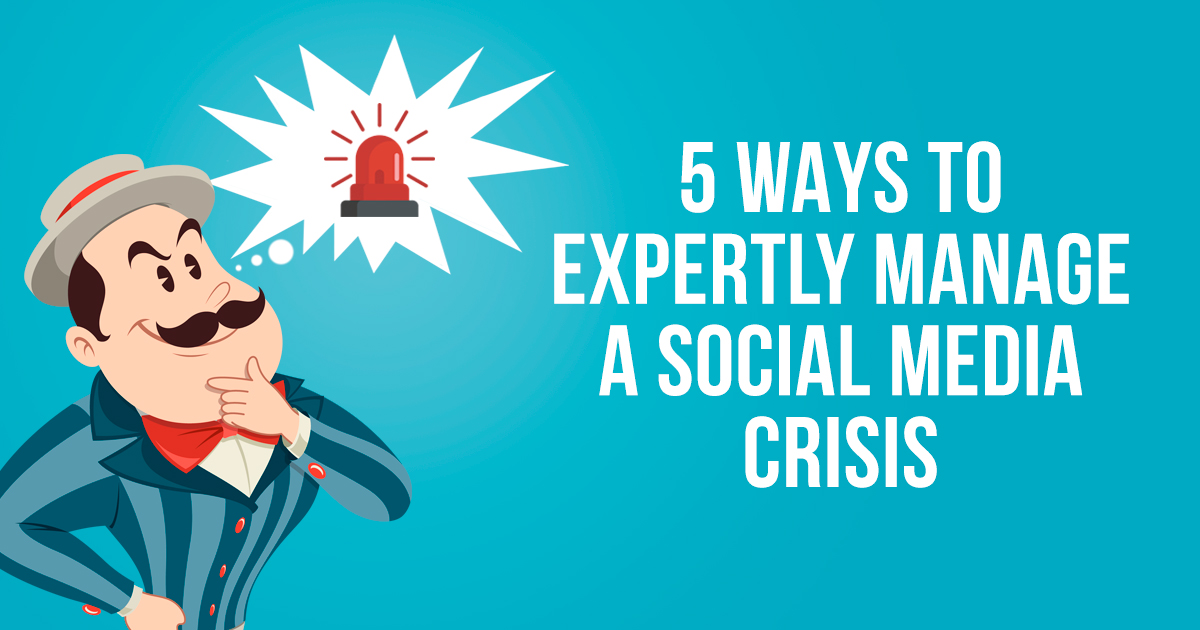 5 Ways to Expertly Manage a Social Media Crisis
NEWS: Digital Marketing NEWS: Social Media Marketing
Social media is an excellent way to amplify your brand and potentially reach thousands of people in your target audience. However, with the power of visibility, both the good and the bad are more widely shared than ever before. From tasteless tweets to inadvertently offensive content, social media crisis management is more critical than ever.
Here are five tips you should incorporate into your social media marketing strategy so you'll never be caught off guard if a social media crisis happens.
1. Draft a Social Media Policy
Minimize your risk of a social media crisis with a clear, written social media policy. When your team has clear guidelines on what to post—and what to never even think about posting—you reduce the risk of someone going rogue and wreaking havoc on your social media profiles.
2. Keep Your Ears and Eyes Peeled
When done well and consistently, social listening can prevent problems from becoming a full-blown crisis.
By staying on high alert, you can gauge how people are feeling about your brand on social media. As you gain more experience, you'll understand the difference between minor complaints and a significant shift in the way people feel towards your business.
Always be on the lookout for a sharp increase in brand mentions, to make sure it's only good news.
3. Always Have a Crisis Communications Plan
Having a plan in case sh*t hits the fan will allow you to respond quickly before anything gets out of control.
A quick response—within one hour—will help mitigate the damage a social media crisis can cause.
In your social media communication plan you should include:
How to communicate internally about what is happening
How to figure out what's an actual crisis and not merely a disgruntled customer
The approval process for what your brand will post on social media
Pre-approved external messaging
A link to your social media policy
Who is responsible for what and when
No matter how robust your plan is, don't expect to solve the problem with a few well-timed posts. You must keep in mind that people will be looking for your business to respond, and you need to give them a response as quickly as possible.
To respond quickly, it can be as simple as acknowledging that there's an issue and letting people know that more information will be available soon.
4. Pause Your Upcoming Posts
If you have any pre-scheduled content, pause it immediately after learning about the crisis.
If you keep posting silly memes or more of the same content, it sends the message that your brand doesn't care and you'll only look tone deaf and insensitive.
5. Don't Argue, Just Acknowledge
If you go straight into defence mode or respond angrily in the heat of the moment, it only causes more trouble and makes your audience question the sincerity of your brand.
By following tip posting an update that you'll be responding soon (tip #3), you can buy time to create a video or an official company statement. In the meantime, keep your responses as short as you can, and try to stay away from getting baited into another tweetstorm over what went wrong.
If people are trying to get you to engage further before your company is ready, aim to keep the conversation in direct messages, email, or by phone, as long as it's outside of social media.
Mistakes Happen
There are always ups and downs, and in today's social media driven world, more brands will see a social media crisis than those who don't. The trick is to respond quickly and as transparently as possible. This will show your customers, and prospective customers, that you actually do care about them and are working hard to prove you're the brand they think you are.
If you need help creating a digital marketing strategy contact Barker Social today, we offer a FREE consultation, and we'd be happy to discuss your business and create a plan that will meet all of your marketing goals.